2012-2013
Digital Humanities Research Group at UCSD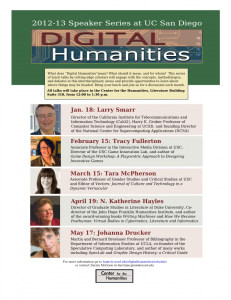 "Digital Humanities" is a buzzword in academia today. But what does "Digital Humanities" mean, and what should it mean? This research group takes the digital humanities as its subject and methodology, as an opportunity to examine the emergent field and consider its impact on scholarly practices, research initiatives, and institutional structures. This new scholarly research group, sponsored by the Center for the Humanities at UCSD, will meet monthly and will be centered around visits by luminaries in the field of the digital humanities. All are welcome, and our schedule is developing and is online.
 2011-2012
"Back to the Book" Research Project, Co-Supervisor
I am part of a Netherlands-based research initiative, financed by the Netherlands Organization for Scientific Researsch (NWO) within its Innovative Research Scheme (VIDI) and organized by Professor Kiene Brillenburg Wurth, which "researches the resilience of the book as a literary medium in the digital age."
2008-2011
Yale University Media Theory & History Initiative, Steering Group Member and Faculty Organizer
I organized a campus-wide initiative that gathers faculty and graduate students from across campus to discuss the intersections in our research around the topic of media and to assess the possibilities of instituting a media curriculum at Yale. The faculty seminar meet monthly over the course of two years to share research and discuss the state of media studies. You can read about it in the Yale Daily News (Feb., 2011). On April 22, 2011 we hosted the first-ever conference of its kind at Yale, Yale Media Theory & History Graduate Conference
Yale Media Studies Collective, Faculty Convener
I established and convened a Whitney Humanities Center Working Group, an interdisciplinary forum, for the collective exploration of "media studies" in the field's broadest possible construal. The group was open to faculty, graduate students, undergrads, and staff from across campus. It met monthly to discuss a selected critical text.
Yale English Department's Theory & Media Studies Colloquium
I was the first Faculty Convener for the newest colloquium in the English department which meets to discuss pre-circulated papers by faculty and graduate students and hears from invited speakers on various topics ranging from studies in the history of the book to aesthetic theory.
The Modernism Lab, Member of Board of Directors
I served as a member of the Board of Directors for "a virtual space dedicated to collaborative research into the roots of literary modernism" directed by Pericles Lewis (Yale University).
2010
Critical Code Studies Working Group
"Critical Code Studies is the application of humanities hermeneutics to the interpretation of the extra-functional significance of computer source code," and this working group shares research in this emergent discourse. Thisworking group is comprised of digital media scholars collaborating on creating a forum for resources, discussion, and demonstrations of the interpretation of computer code.
2007-2009
Digital Fiction International Network
One of six participating scholars involved in a UK-based project, funded by the Leverhulme Trust, to "provide an arena for a new generation of scholars to collaborate on integral theoretical and analytical issues within digital fiction research, and profile pioneering approaches to the wider fields of literary studies, stylistics and narratology." Principal Investigators for the project are Alice Bell and Astrid Ensslin.
2006
UCHRI SECT
Participated in the UC Humanities Research Institute's Seminar in Experimental Critical Theory: "technoSpheres: FutureS of Thinking."  Convened by Anne Balsamo, this interdisciplinary seminar brought together leading technological innovators and humanist thinkers and included artistic performances as well as technical workshops.
2005-2006
UC Transliteracies Project
One of 14 UC graduate students selected to participate in 2005-2006 research for the UC Multi-campus Research Group project "Transliteracies: Research in the Technological, Social, and Cultural Practices of Online Reading." The project seeks to do research and development in the area of online reading and is funded by a grant From the UC Office of the President.
2003-2004
SINAPSE | LACMA Lab "Nano" Exhibit and Essay
Interdisciplinary project to develop major, year-long exhibit for the Los Angeles County Museum of Art, about the intersections of nanotechnology, art, and culture. NANO was an experiential exhibit open December, 2003- October 2004.  A book of essays related to the exhibit, NanoCulture: Implications of the New Technoscience for Literature, Art, and Society, edited by N. Katherine Hayles (Intellect Books, April 2004). My essay, titled "Nano Narrative: A Parable in Electronic Literature," addresses the role of narrative in nanoscience through an analogy to Erik Loyer's digital novel Chroma (2001).
2002-2004
ELECTRONIC LITERATURE ORGANIZATION
I served as Associate Director (2002-2004) and Programs Assistant (2001-2002) for the ELO when the non-profit organization was housed at UCLA.