BOOK PROJECTS
BOOKISHNESS: The Afterlife of Books in 21-st Century American Literary Culture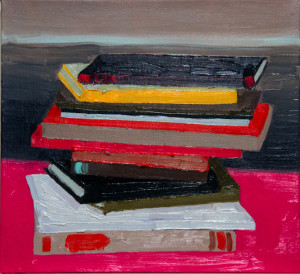 Twenty-first century literature and literary culture is obsessed with paper and books, and Bookishness explores why. This new book project focuses on how 21st century literature—both in print and online— responds to the threat of an increasingly paperless and multimodal society by fetishizing the book, both thematically and formally.
 (painting by Brooke Hair)
BOOK PRESENCE IN A DIGITAL AGE
Co-edited with Kiene Brillenburg Wurth and Kári Driscoll
(under contract with Bloomsbury Press)
This edited collection is devoted to examining books and paper as bodies of
literature in a digital age. It will brings together leading scholars, artists, and publishers in the field and offers a variety of mutually enhancing perspectives on the past, present and future of the book as medium, the complex relationship of materiality to virtuality, and of the analog to the digital.