PUBLISHED
MONOGRAPH: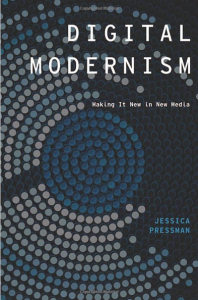 DIGITAL MODERNISM: MAKING IT NEW IN NEW MEDIA
(Oxford University Press, January 2014)
A prominent strategy in electronic literature is the appropriation and adaptation — the "remediation"— of literary modernism. Across narrative genres and programming platforms, I identify a sub-set of electronic literature that shares a strategy of appropriating, adapting, and alluding to the poetics, politics, and seminal texts of literary modernism. These works claim a canonical literary heritage that validates their own formal experimentation and authorizes the challenge they pose to mainstream digital literature. The works I call "digital modernist" confront our expectations about electronic literature: they resist the extensive and expected possibilities of their medium— navigation, accessibility, and interactivity— in favor of foregrounding text, typography, and difficulty in narrative. In so doing, they reinscribe a focus on the "literary" into our digital culture and online reading practices. This book examines how and why experimental electronic literature returns to the cultural principles and poetic practices of modernism as a means to "MAKE IT NEW" in new media.
EDITED COLLECTIONS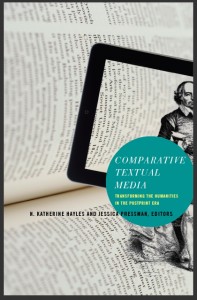 COMPARATIVE TEXTUAL MEDIA:  TRANSFORMING THE HUMANITIES IN THE POSTPRINT ERA
Co-edited with N. Katherine Hayles
(University of Minnesota Press, 2013)
As traditional print-based humanities move into the digital era, this book is intended to promote such re-thinking. We collect essays by a wide variety of literary scholars who analyze text across diverse media formats and historical periods, to argue that literary critics and departments need to reorganize around the recognition that the study of text is a study of media.
"The Literary," A Special Issue of Digital Humanities Quarterly
Co-edited with Lisa Swanstrom (July 2013)
This special issue of DHQ invites essays that consider the study of literature and the category of the literary to be an essential part of the digital humanities. What is the relationship between literary study and the digital humanities, and what should it be? The essays in this special issue approach this topic from a wide range of critical perspectives and that focus on diverse objects of study from antiquity to the present as well as born-digital forms.
LITERARY CRITICISM
Peer-Reviewed Journal Articles & Book Chapters

"Electronic Literature as Comparative Literature"
The 2014 – 2015 Report on the State of the Discipline of Comparative Literature
eds. David Damrosch and Ursula Heise
June 2014
"Reading (Between) Machine"
Review of Amaranth Borsuk and Brad Bouse's Between Page and Screen (Siglio Press 2012) in American Book Review, 35:2 (2014)
"The Impact of Old Media on New Media" (PDF here)
The Johns Hopkins Guide to Digital Media and Textuality.
eds. Lori Emerson, Benjamin Robertson, Marie-Laure Ryan
Johns Hopkins UP, 2014
"Whither American Fiction?" (PDF here)
Cambridge Companion to American Fiction after 1945
ed. John Duvall
Cambridge UP, 2012
"Machine Poetics and Reading Machines: William Poundstone's Electronic Literature and Bob Brown's Readies" (PDF here)
American Literary History (Winter 2011)
"Modern Modernisms: Young-hae Chang Heavy Industries and Digital Modernism" (PDF here)
Pacific Rim Modernisms
eds. Steve Yao, Mary Ann Gillies, and Helen Sword
Toronto UP, 2009
"The Aesthetic of Bookishness in 21st-Century Literature: Steven Hall's The Raw Shark Texts" (PDF here)
The Michigan Quarterly Review
Fall 2009
Translated into Polish and published in "Literatura Eksperrymentalna" in Ha!art (Krakow 2014)
"Don't Close Your Eyes: The Flash-ing Art of Young-hae Chang Heavy Industries" (PDF here)
Young-hae Chang Heavy Industries Solo Show General Catalogue Essay
National Museum of Contemporary Art
Athens, Greece
December 2008-March 2009
"The Strategy of Digital Modernism: Young-hae Chang Heavy Industries' Dakota" (PDF here)
MFS: Modern Fiction Studies Summer 2008
"Navigating Electronic Literature" (PDF here)
Essay for online companion for N. Katherine Hayles' Electronic Literature: New Horizons for the Literary
Notre Dame UP, 2008
"Reading the Code Between the Words" (PDF here)
Dichtung-Digital
2007
"House of Leaves: Reading the Networked Novel" (PDF here)
Studies in American Fiction
Spring 2006
"Nano Narrative: A Parable from Electronic Literature"
NanoCulture: Implications of the New Technoscience for Literature, Art, and Society
ed. N. Katherine Hayles
Intellect Books, April 2004
CURATED COLLECTIONS
"Charting the Shifting Seas of Electronic Literature's Past and Present"
Microfolio Editor for tenth anniversary issue of Drunken Boat
July 2009
INTERVIEWS Conducted

"Flying Blind: An Interview with Judd Morrissey and Lori Talley"
The Iowa Review Web
Volume 5, Number 2, April 2003
"Technotextuality: and Interview with N. Katherine Hayles and Anne Burdick"
Writing Machines Interview
2003
Selected REVIEWS
"The Very Essence of Poetry: Judd Morrissey and Lori Talley's My Name is Captain, Captain"
The Iowa Review Web
Volume 5, Number 2, April 2003
Digital Media Revisited. Edited by Gunnar Liestol, Andrew Morrison, and Terje Rasmussen
The MIT Press, 2003.
Tekka Web Magazine
2003